Season Pass Campaign 2019
Campaign period: 01 - 30 November
Do you want to freely decide when to go skiing, or plan to ski for more than 7 days during the season? Then you should consider getting a season pass during our campaign period. From 1 to 30 November you get the best price for the season pass.
You can also buy a season pass for the whole family for special family price. Special prices are valid for parents with children/youth (17 years or younger) in their custody.
Note: For only NOK 500 more, you can buy our annual pass. Then you can enjoy Narvikfjellet without limitations both during winter 2019/20 and summer 2020.
You can find more information about the purchase of annual passes below the price list.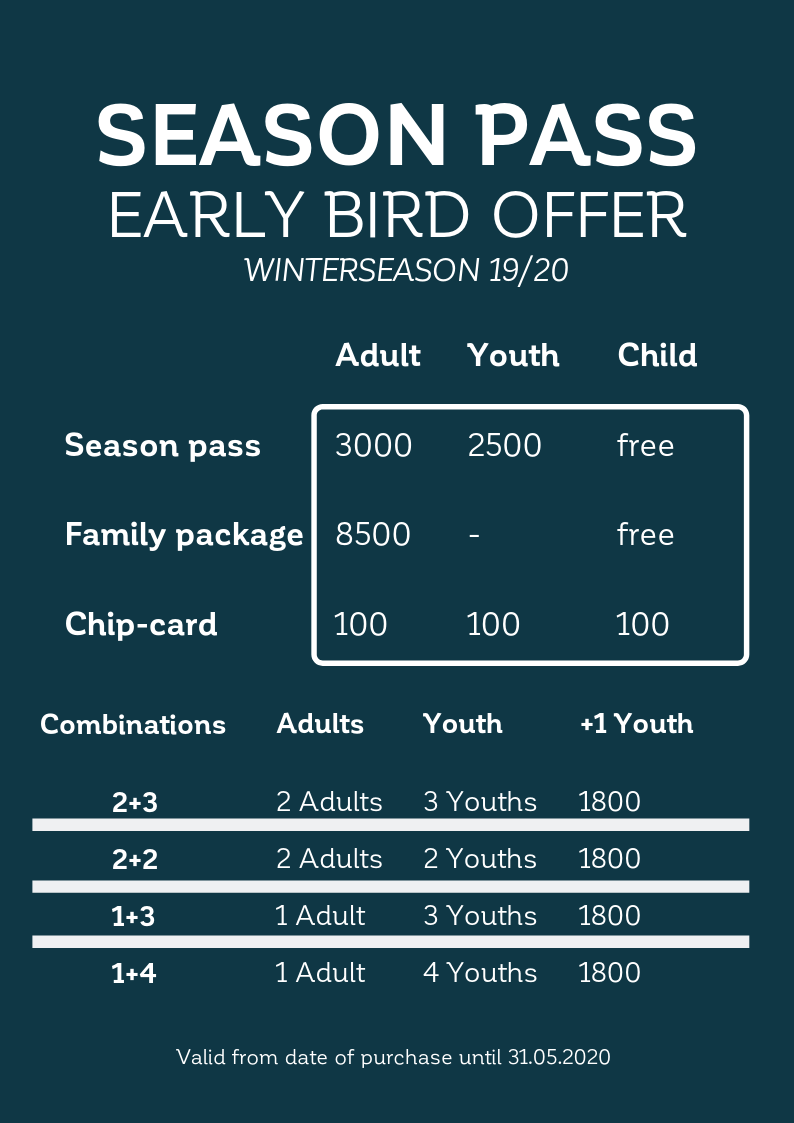 Advantages for season/annual pass holders:
❄️ NOK 15 for coffee/tea/hot chocolate in our ski shop and mountain restaurant,
❄️ 15% discount on all items in the ski shop,
❄️ 15% discount on  food and drinks in the Fjellheisrestaurant (with the exception of alcoholic beverages),
❄️ 15% discount on ski rentals,
❄️ 15% discount on ski wax service.
- We are working on several other discounts, these will be published continuously.
 
Important information regarding the purchase of your season pass:
- Age limits: Youth 7-17, children -6 years.
- Family prices are valid for parents with children/youth (17 years or younger) in their custody. That requires the same place of residence, except in cases involving children from previous marriages, cohabitation and civil unions, where one of the parents has custody.
- In Narvikfjellet Axess Cards are mandatory for the purchase of lift passes, with exception of single rides with the cable car. If you already have an Axess card, you can simply fill that card up. In case you do not have an Axess card yet, you can buy one in Narvikfjellet. Any cards from our previous Skidata system cannot be used. 
- You Axess card and WTP number are personal an as such only assigned to you. When purchasing the card, we therefore ask you to spend a few minutes registering information about yourself and loading up your profile picture.
- Whether or not you have a card, we need you photo, in order to create you personal season pass. The image must show all of the head and the top of the shoulders. The eyes need to be open, clearly visible and not covered by hair. Avoid untidy backgrounds - profile photos should be representative and serious.
- Tip: If you want to buy season passes for several persons or the whole family, have your profile photo ready on your computer/mobile/phone.